Shimano sponsored rider Laurens ten Dam takes on the Life Time Grand Prix series, read his Crusher in the Tushar race report below.
In and out.
I pretend to know my body can handle a lot of stress. I put it through many grand tours, hard races and ferocious training camps. If things get hard I just trust that the body will hold everything together. That was the reason to attack 120 miles to go at Unbound. I really thought I was be able to make it. But last Thursday night, 12 hours before departure to Utah for Crusher in the Tushar I started to doubt. Maybe I was going to stretch it too much this time.
The reason for my doubts was my schedule. As I'm currently busy making podcasts before and after every Tour the France stage, I couldn't leave Europe for too long as this is an important project for Live Slow Ride Fast Media. I didn't want to abandon the ship for too long and decided to fly in at the very last moment. The difference in time zones helped me with my planning as my Friday actually contained 32 hours. The plan was made. I would fly in Friday from Amsterdam, pick up my rental car in Salt Lake City airport and drive the 3 hrs towards Beaver, Utah. Saturday was raceday and Sunday I would fly out again.
This plan only worked if there was no delay or whatsoever during travel or I wouldn't even make it to the start line. It was very tight and one of the reasons for my doubts. The other one was that the race was designed as a hard climbing stage in the Tour the France. Lots of climbing (3000 vertical meters) and the start was at 2000 meters altitude while the finish was at 3150 meters. A hight I never reached during a single stage at the Tour the France or Giro d'Italia. Coming straight from sea level this was an extra gamble. I was curious if my body would hold this amount of stress. I was going to climb the same amount of meters in one day as in the whole month after Unbound training at home. I got some last minute advise on nutrition from Pete Stetina (no hydration pack as there would be plenty of water on course) and I would run the same tires as in every race. The Specialized pathfinder 42's. No place for doubts on that side.
Travel went smooth and I was in time in Beaver to pick up my numbers. Chris, the Specialized offroad team's mechanic, had my Crux for me race ready. I opted for the light bike because of all the climbing. After a quick shave of my legs, necessary as it was the first time since Unbound, I was in bed by 9 pm.
I didn't even need my alarm which was set at 4 AM to wake up. Jetlag did its job and I was alive and kicking way before it sounded. My breakfast consisted of real "travel ninja oats' from the microwave in my hotel room. I took the oats in a ziplock from home and got the milk from a 7 eleven on the way in. I got my coffee from the nearest gas station traveling to the start. I was feeling good cruising in my rental car and ready to suffer. I did't make this whole trip to go easy. I was going to give everything. That's how I felt.
The Crusher has a really mellow atmosphere compared to Unbound. I already noticed during the pick up of my numbers, that there was no such thing as stress in Utah. Following this pattern we rolled out pretty easy. No elbowing or fighting for position. We used the first 15 km as a warm up before the real first climb started.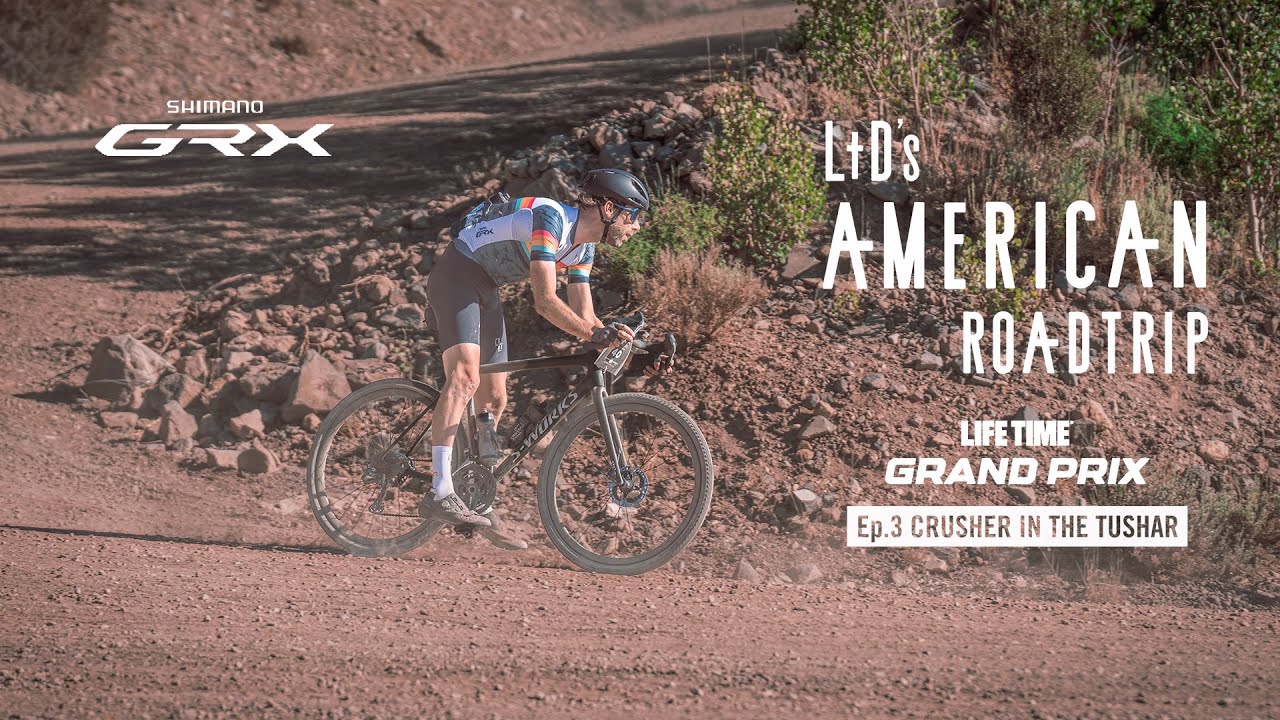 Pete Stetina started to ramp up the pace once it got more steep and we hit the gravel. Then Keegan Swenson took over. Keegan is the leader of this Grand Prix by a big margin and today he showed why once again. This guy is a maniac and he just started going without looking back. I saw the power we were pushing and knew I had to calm down. 450 watts is a lot for me on sea level but on 2500 meters way above a sustainable tempo for me. So I decided to play it smart and do my tempo. I went exactly the tempo I could hold for one hour to the top and found myself in the third group at position 12.
Happy with my effort we hit the downhill. The day before I heard something about washboards and I didn't care at all. Whatever. I was too busy to come here to make concerns about the state of the gravel in Utah. I'm happy I acted that way because although the descent was very, very bumpy, the bike did a perfect job going down fast without any risks. I felt in control and saw later that on the 22 km downhill segment I realized the 7th time of the day. All without knowledge on turns or bad surface. I was in the zone.
As said, the mind was really good. Ready to make the maximum. When the downhill ended, my little group came quickly back to the second group, which made us the second group behind the solo leader, the beast Keegan Swenson. After 85 km there was a sandy part, which reminded me of the beaches at home some guys where dropped and we started the ultimate climb with 5 guys. I was still in the mix.
This ultimate climb is called the Crusher for a reason and actually the opposite of that 'washboard downhill' we just did one hour before. It was cool hitting it at the front and being cheered on by all the people still going down. The guys in my group went slightly too fast for me and I dropped back doing the same thing as on climb one. Pacing myself on the speed I knew I could maintain for 60 more minutes. Unfortunately that speed wasn't good enough to hold on to place 6 as Lachlan Morton and Payson Mcelveen came back from behind and popped me.
I ended up at place 9. Far from Keegan as he motored away from us in cannibal style. But pretty close to the other guys. I crossed the line crossed eyed but very happy and proud. The body didn't collapse, I fought with everything I had in me and felt a little bit like the climber I used to be. I didn't make the journey for nothing. I actually climbed one spot in this series standing 9th now, but more important I felt happy and alive during this 4 hrs and 18 minutes racing my bike. I gave the racer inside me the monthly dose of adrenaline.