We asked Erwin Sikkens from the Shimano Gravel Alliance if he would like to join the party train at Unbound Gravel. This is his story of what happens when everyone's best friend and eternal party-pacer joins the biggest gravel race in the world.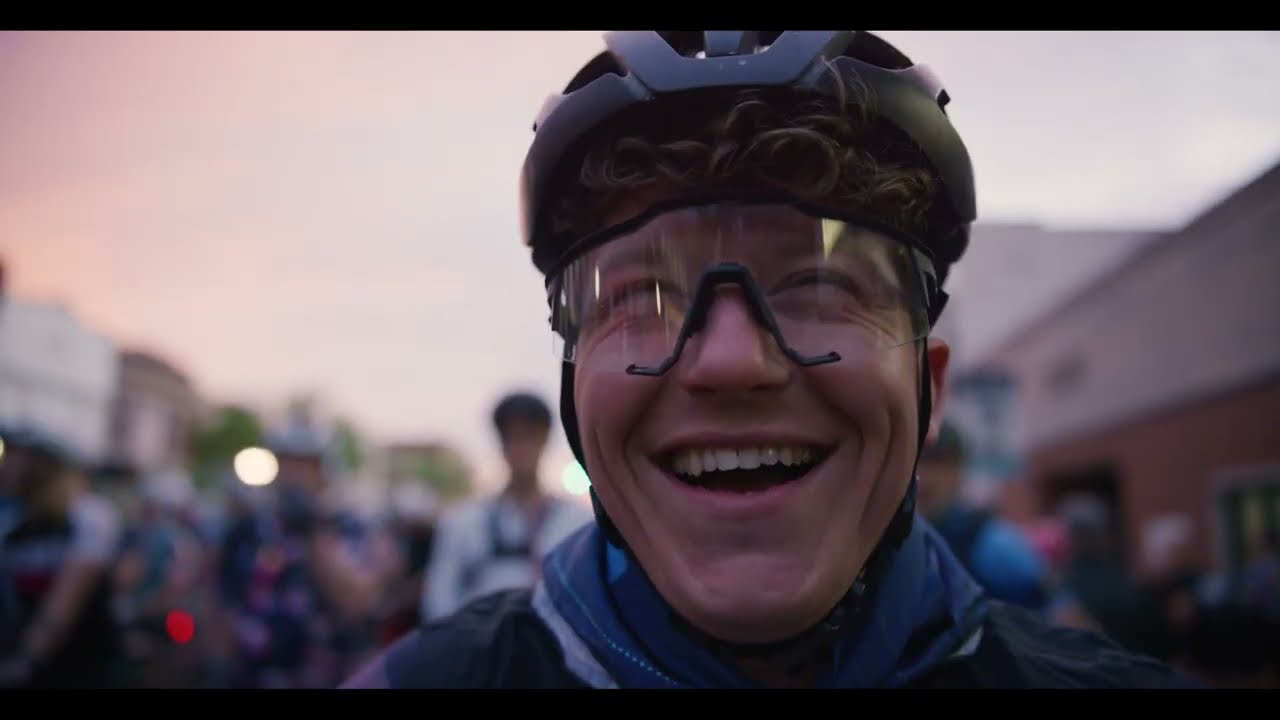 LOOK UP THE WORD 'GRAVEL' IN THE DICTIONARY AND IT WILL PROBABLY SAY SOMETHING ABOUT A CERTAIN TYPE OF SURFACE THAT CAN BE FOUND, AMONGST OTHER PLACES, ON TENNIS COURTS AND UNPAVED ROADS. THAT'S THE TEXTBOOK ANSWER. WHEN CYCLISTS HEAR GRAVEL, THEY THINK OF ALL KINDS OF THINGS.
Sure, they'll think of that surface made up out of a million tiny rocks, but they'll just as easily think about a double-track forest road, some singletrack, or a big campfire even. It'll conjure up images of certain bikes and components, and probably even lumberjack shirts and those funky scarves that you either love or hate. To me, the word gravel is synonymous with 'party pace'. Every time I write or talk about gravel, it's about some slow-paced adventure or bikepacking trip.
It's the kind of easy-going vibe that has inspired lots of other people to get on a gravel bike just as I have, and it's this welcoming scene that I feel most at home in. For this same reason, I have a love-hate relationship with the notion of 'gravel racing'. You could argue that I have the same love-hate relationship with the American gravel scene, which despite it being the place where the gravel culture that I love so much came from, promotes such a strong gravel racing culture that it sent me into a not-insignificant identity crisis when I was invited to Unbound Gravel in Emporia, Kansas.
At 200 miles/322km, Unbound Gravel emerged as one of the world's earliest and biggest gravel races. Despite being an OG grassroots gravel event, an aspect that'd usually get me excited, Unbound Gravel hadn't made it onto my bucket list. Sure, I'd clocked it, but I had never given it any serious thought. The logistics of getting over there to race would be complicated enough, and that's not even taking into account the lottery to get a ticket in the first place. So, when the opportunity was handed to me, I was quick to say yes, only to immediately go into the 'what in the world did I sign up for' phase. Well, I was about to find out.
Gravel Mecca
The calm before the storm is the best way to describe Emporia in the run-up to the race. Although we were clearly not the only non-locals in town, it had the same air of tranquillity over it that it has throughout the rest of the year. It was Tuesday and preparations were being made for the Unbound expo to start on Thursday, with the race itself being held on Saturday. These first two days were nice; I got to know the town and chatted to some locals, including the owner of one of the local bike stores (aptly called 'Gravel City') and even Emporia's former mayor, now speaker of the festival.
As the week progressed, the town slowly filled with cyclists. Hundreds at first, thousands soon after. What would otherwise be a pleasant, if not somewhat sleepy town in central Kansas, soon turned into the gravel Mecca of the world. I can't pinpoint anything specific, but at this point I felt I was exactly where I needed to be. From talking to the friendly locals who were welcoming us cyclists to their community, to the buzz you get from seeing all these likeminded gravel riders around and going out on short recon rides, my stoke levels reached an all-time high. I was so happy to be here. There was just one problem… there was still the actual gravel race to contend with.
Shortly before six in the morning on Saturday, I find myself at the start of Unbound. This isn't some remote campsite in the woods – we're in the middle of Commercial Street, the main street of Emporia. It's early morning still, but I know it's going to be a long day in the saddle. I'm not nervous though. Excited is a much better word. In the days leading up to the race I had found the time to think about my ride, and I knew I needed to just do me. What would that involve?
Despite Unbound being the biggest gravel race out there - in name and distance - I knew my best bet for survival was not to race it, but to pace it… or rather, to party pace it.
Once the police car had driven off and the race had officially started, I immediately said goodbye to the fast people at the front as they rode off into the horizon. Even at this early stage in the race, there were so many people overtaking me that I must have set some crazy world record without even knowing it. With the early part of the course featuring 90-degrees gravel corners and a couple of small water crossings, the big group had soon splintered into a hundred smaller groups. I was waiting for the perfect one to pass me so I could follow their wheels, but that group never came. The start had been so fast, and the little hills so treacherous, that every group seemed to have one or two fast people setting a pace that was significantly harder than I wanted to go. I tried and I failed - oh well, plan B it is. Just me, myself and I against the wind blowing in my face. 180 miles to go.
PARTY PACE WINS THE RACE
I find myself a couple of hours into the race, thinking how funny it is that we call it a race. Around me, I see hundreds of people that, just like me, did not come here as a pro. We're all riding our own ride and we're fine with that. We are all aware that 200 miles is a terribly long ride, and we'll have to save energy to make it to the finish. At this point I stop calling it a race and start calling it a ride. A long ride that I actually enjoy a lot.
It was another stark reminder that 'racing' is not for me, because as soon as I let go of the wheels of those testosterone-filled people, I immediately started having fun again, party-pacing on my bike and befriending like-minded people, just like at home. Obviously with a ride like this, it's easier said than done. In a ride of this distance, it's not just a leg-game, but equally a game of the mind. When a nasty flat almost took me out of the ride entirely, I felt my spirits drop and I had a hard time having fun, but once I was back on, I reasoned that ups-and-downs are inevitable on a long ride like this.
Lesson learned - the longer you ride, the bigger the ups-and-downs get.
Hours and miles fly by without me really noticing them. I'm enjoying it and making friends. I love noticing small details, like how the road signs have strange nomenclature and brightly coloured birds that I'd never seen before but were now choosing to follow me. I talk about the history of this place with some locals, who regale with me cool stories and I make sure to soak up the atmosphere at the first of two checkpoints in the village of Eureka.
Not long after this point, the wind turns in my favour and I still have energy in the tank. When I realise this, I cannot do anything but smile. The miles had been crawling, but now they were actually flying by. Sure, I'm getting fatigued but I'm also riding faster than I have done all day.
The wind pushes me both physically and mentally. I pass the half-way point and things are looking up. The small bit of rain we had along the way has dried out and the sun even shows its face. Hours and miles continue to fly by.
Reality bites
Then, all of the sudden, we hit the nastiest, gloopiest and stickiest section of mud I have ever come across. Out of all the amazing gravel roads I've seen all day, the organiser catches us by surprise and takes us along a muddy road that's so awful it quickly starts to make me feel bad. We're forced to hike our bikes the whole way, which goes on forever. It is not until we're all standing with our feet wet in a local creek just after, that I start to laugh again. Unbound is a tough ride, but I love it.
The pros have long since finished, but I'm still out here with all my slow but steady friends. The sun sets and I find myself riding in the dark. It dawns on me that I can still finish before midnight, thus making it into the 'midnight finishers club'. It's time to up the pace. I find myself shifting into the race mindset despite having a whole day of party pacing in my legs. It's under my skin and I'm loving every minute of it.
I see the kilometres count down on my screen. I overtake a few riders in a group just before Emporia, and then I finally enter the town. As the bright letters of the 'Emporia State University' welcome me, emotions take over. Unknowingly, this gravel pilgrimage week has meant a whole lot more to me than I had dared to admit. When I finish back at Commercial Street after 17+ hours of riding, the crowds are still as big as they were at the start, cheering on each and every rider that finishes.
I'm almost one of the last to finish… but I feel like a winner, as tears of happiness fill up my eyes.
Now back home, I'm writing this story and it's making me wonder whether I'm now a convert. Do I like gravel races now? And the honest answer is I don't know. Yes and no. No, I didn't really race and I don't plan on doing so any time soon. But yes, I enjoyed the challenge and the distance, and yes, I absolutely loved what I saw of the USA's somewhat different gravel culture. And yes, I think it is addictive, and yes I might have to come back one day to do it all again. But in the meantime? I'll keep party-pacing in Europe on my gravel bike, because that's what I do best.